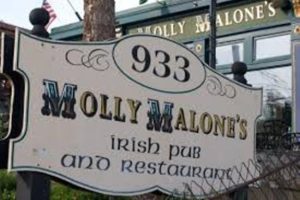 Join members at Molly Malone's Highlands, 933 Baxter Ave, Louisville, KY 40204, beginning at 5:30 p.m. on Friday, April 6th. Enjoy a meal and the Society benefits by receiving 10% of sales.
ONLY 30 SEATS AVAILABLE FOR GROUP SEATING – FIRST COME, FIRST SERVED. No reservations required if you plan to drop in for dinner at a time of your choice. Just tell your server you are with the Society so it benefits from your attendance!
RSVP to our Regional Celtic Commissioner, Robbin Goodin!